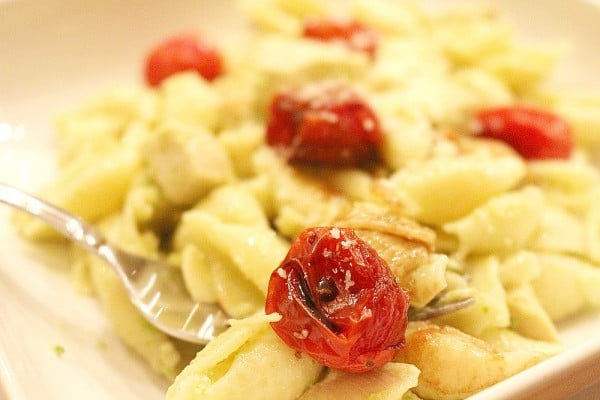 Spring is coming and with it one of my favorite spring vegetables, asparagus. Though available year-round, asparagus is at it's most tender and sweet in the springtime. This recipe for Asparagus Pesto Chicken, Ricotta, & Blistered Tomatoes takes the tangy flavor of spring asparagus and blends it with garlic, olive oil, and Parmesan cheese to make a light pesto sauce. Toss this sauce with pasta, roasted chicken, ricotta, and oven-roasted blistered tomatoes, and you will have a gourmet meal your whole family will love.
Asparagus Pesto Chicken, Ricotta, & Blistered Tomatoes
1 lb. Fresh Asparagus
3 Cloves Garlic, peeled
2/3 c. Olive Oil
1/2 c. Fresh Grated Parmesan Cheese
1 tsp. Salt
1/2 tsp. Fresh Ground Pepper
1 tsp. Olive Oil
3 Chicken Breasts, boneless and skinless
1 lb. Pasta Noodles (I used Shells)
1 c. Half & Half
1 c. Ricotta Cheese
1 tsp. Olive Oil
1 tsp. Aged Balsamic Vinegar
1 c. Grape Tomatoes
Preheat the oven to 400 degrees and line a baking sheet with aluminum foil. Place the pine nuts on the baking sheet and roast in the oven for about 5 minutes. Remove from the oven and set aside to cool. Brush the chicken breasts with 1 teaspoon of olive oil and roast the chicken for about 40 minutes. Remove from the oven and set aside to cool.
Clean the asparagus and trim the wooden ends off, leaving the green tender portion intact. Cut the asparagus into smaller pieces and place in a food processor. Add the garlic and pine nuts and pulse the food processor until the ingredients are coarsely chopped. Add the salt, pepper, and olive oil and pulse until well blended. Cook pasta according to package directions.
Toss the tomatoes with the olive oil and balsamic vinegar, place on the aluminum foil-lined pan and roast in the oven for about 10 minutes. The tomatoes should be finished roasting by now, so remove from the oven. Roasting causes the tomatoes to burst open or "blister" and the tomatoes come out super sweet.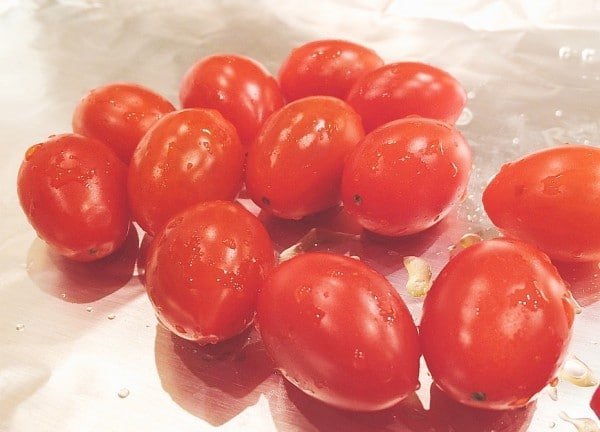 Drain the pasta and put the pasta back in the pot. Add the half & half and set on the stove on medium low. Blend in the ricotta cheese and mix until melted. Cut the chicken into small bite-size pieces and mix into the pasta. Blend the asparagus pesto into the pasta noodles, tossing to coat all the pasta and chicken. Serve immediately, topping with the blistered tomatoes and additional Parmesan cheese to taste.