This blood orange rosemary margarita is the ultimate cats meow. Tangy and tart, it is a nice twist (no pun intended) on the traditional fruity 'rita, and the rosemary adds an earthy zest. These margaritas are perfect with grilled fish tacos and fruit salsa or
Hatch Chile Corn Chowder.
Blood Orange Rosemary Margarita
3 oz White Tequila
2 oz. Triple Sec
2-3 Fresh Squeezed Blood Oranges
3-4 Sprigs of Fresh Rosemary
(This recipe is per glass.)
Juice the blood oranges. If you cannot find fresh blood oranges where you live, you should be able to find Aliseo brand frozen blood orange juice at a Whole Foods Market or a specialty gourmet store, or use tangerines instead of blood oranges.
Pour the tequila into a cocktail shaker. I used white tequila, as it has a smoother flavor than yellow tequila, but you can use whatever you have on hand. Using a muddler, lightly mash 1-2 sprigs of rosemary into the tequila, but do not completely crush it.
Using a cocktail spoon, scoop the rosemary pieces out of the tequila. Fill the shaker with ice, and add the triple sec and blood orange juice. Shake and strain into margarita glasses. Garnish with a rosemary sprig.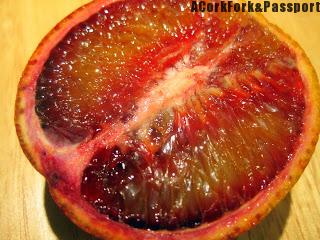 Note: If you would like to make this into a frozen margarita, after you have taken the mashed rosemary out of the tequila, put 6-8 oz of ice into a blender. Pour in the rosemary-infused tequila, the triple sec, and the blood orange juice, and blend.
Bonus: If you want the tequila to have an even stronger rosemary flavor, add 6-8 sprigs of rosemary to a bottle of tequila, and infuse for 3-4 weeks.
Save