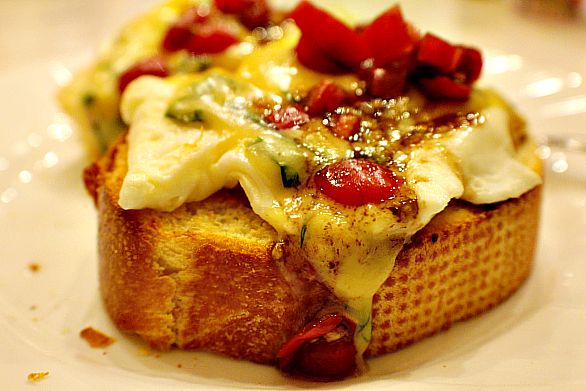 Eggs Benedict is a favorite in our house, but we usually only have it one or two times a year, on Christmas morning and sometimes on Mother's or Father's Day, so making it for dinner is a real treat. I've never been a good poacher, my husband does most of the egg poaching in our house, but fortunately he was home when I was making this, so we made it together.
I wanted something a little different for dinner than regular ol' eggs benedict. While at the grocery getting Canadian bacon, the prosciutto caught my eye, the wheels started turning in my little brain (emphasis on little), and Bruschetta Eggs Benedict was born!
Bruschetta Eggs Benedict
1/2 c. Fresh tomato
2 cloves Garlic, finely chopped
2 tsp. Olive oil
1 tsp. Balsamic vinegar
1 tsp. Fresh basil, chopped
Salt and Pepper to taste
Fresh french bread
Eggs, 2 per serving
1 tsp. Rice vinegar
Prosciutto, 2 slices per serving
1 Package Hollandaise sauce (I use Knorrs)
Coarsely chop the tomato. I had grape tomatoes that needed to be used up, so used those. Mix in the garlic, olive oil, balsamic vinegar, basil, and salt and pepper. Set aside.
Preheat the oven to 400 degrees. Slice french bread into slices, approximately 1 – 1 1/2 inches thick. Brush with olive oil. Set aside. Place the prosciutto in a small pan with a tablespoon of water. Heat on medium-low and then set aside.
There are perfectly good recipes for homemade hollandaise sauce out there, but I have not found one yet. (If you have one, please post in comments!!) I use Knorrs packaged hollandaise sauce, which is perfectly fine for a week night dinner. Whether you make it homemade or use a package mix, cook the hollandaise at this point. Snip 1-2 basil leaves finely and add to the hollandaise sauce.
Fill a wide saucepan with water. Set stove to medium high to heat water, but do not allow the water to boil. Add the rice vinegar to the water and stir (the vinegar helps keep the egg together in the water.) When the water is ready, take a whisk and stir the water to form a "vortex". Crack an egg into a ladle and slowly lower the ladle into the hot water, pouring the egg into the water. The "vortex" helps keep the egg white together with the yolk. You can cook 2-4 eggs at one time using this method. Heat for two minutes, then turn to medium low and cover, cook for an additional 2 minutes. While the eggs are cooking, put the bread under the broiler for 1-2 minutes, until toasted. Reheat the prosciutto. Set the bread on a plate and top with the prosciutto. Remove the eggs with a slotted spoon and place on top of the prosciutto. Pour a spoon of Hollandaise sauce over the top of each egg, and spoon bruschetta mix over the top of the Hollandaise. Yum!
Note: Oven Roasted Potatoes and fresh fruit make great sides with this dish!