When we vacation in Coronado we have two "must go to" restaurants: Miguel's and Brigantine, but every now and then we like to try other restaurants in the area. One of those restaurants is Candela's On The Bay.  Though a little pricier than we are used to, the food, service, and atmosphere were well worth the money.  We have a new favorite restaurant to add to our Coronado list.
Candela's On The Bay
From the moment we stepped in the door, our senses were indulged.  The spanish decor was luxurious and soothing, and the service was lavish.   The wine list was vast, with both local and internationally acclaimed selections. The Latin-themed menu offered an extensive choice of meat, seafood, pasta, and vegetarian dishes, making it difficult to choose.  The staff operated at a leisurely pace, so we were able to take our time selecting our dinner entrees.  They even carried an IPad with photos of various dishes, to help us chose.
Appetizers
Upon recommendation, my husband chose the Crema de Cuarto Quesos al Chile Pasilla as an appetizer.  A  soup of mozzarella, blue, parmesan, and cream cheese, it was too rich for one person, but the staff graciously split the order into two bowls, so we could share.
The soup was topped with a dollop of mashed potato, a giant prawn, and shredded sweet potato.  The zip of the blue cheese and parmesan blended well with the velvety taste of the cream cheese.  Each ingredient, while very different in taste and texture, complemented each other well. To state that it was delicious would not give it justice—it was ethereal!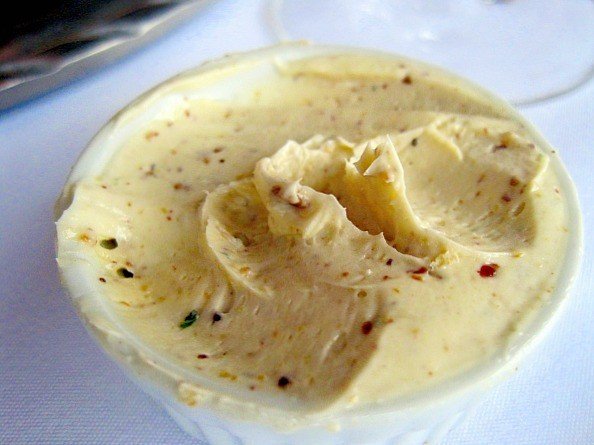 Even the smallest details are extravagant. A bread basket brought to the table contained fluffy homemade jalepeno whole wheat rolls with a delicious tequila/garlic butter.  Hand-crafted cocktails with a unique Latin American twist, such as my horchata martini, a latin drink made of rice milk, blended with vodka, and seasoned with cinnamon.  I was afraid the martini would be too sweet as a before dinner cocktail, but was pleasantly surprised.  It had a delicate rice pudding taste, which complemented my dinner.
Entrees
My husband selected one of Candela's on The Bay's most popular dishes, the Camarones Cabo de Puertas, as his entree.  The dish presented was almost too beautiful to eat. Tequila-flamed jumbo prawn was served on a bed of shaved  sashimi ahi tuna, topped with rice.  The rice was accented with an avocado and tamarindo salsa, and the entire dish was drizzled with a balsamic glaze.  The prawn and Ahi were fresh, and the piquant salsa accented the seafood.  A luscious house Cabernet accompanied his dinner.
My son ordered Fettucini Alfredo with grilled chicken.  The sauce had a delicate cheese taste, not too buttery or heavy.  The grilled chicken was fresh and lightly seasoned.  The homemade fettucini noodles perfected the dish.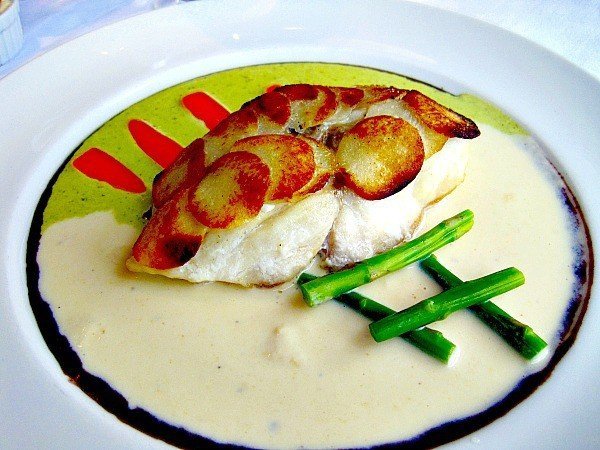 As always, I had the hardest time deciding what to chose.  I finally decided on a seafood entree, Escamas del Mayab, a grouper dish topped with scalloped potatoes in a pool of poblano corn creme sauce, arrived beautifully presented.  The grouper was tender and flaky, and the layer of scalloped potatoes had a delicate cheese taste.  The poblano corn creme sauce had a creamy texture and a spicy zing which complemented the light taste of the grouper.
Dessert
After such a extravagant meal, one would think we would be full, yet their exquisite dessert menu beckoned us.  We declined the richer chocolate and cheesecake desserts, and opted for a light key lime creme brulee.  The brulee, while very good, had a strong lime taste, which took away from the creamy flavor of the brulee.
The Bottom Line
Candela's on The Bay entrees run between $12-30 per plate.
The restaurant has elegant indoor and patio seating with gorgeous views of the San Diego bay.
Reservations are suggested.  For more information about Candela's, visit their website.
Candela's on The Bay is open Monday – Thursday 8 a.m. – 9 p.m., Friday – Sunday 8 a.m. – 10 p.m.