I didn't plan to feature another Argentinean wine so quickly, but on a recent trip to Tucson, I had a chance to try a glass of Cepas Elegidas Cinq wine. While having dinner with Tom Firth, one of the managing partners of Hacienda Del Sol Guest Ranch Resort, we talked about our mutual love of all things wine. Tom asked if I would be interested in trying a wine created by his son, Brennan, who owned a winery in Mendoza, Argentina. I jumped at the chance to try Brennan's wine, especially after finding out more about his sustainable growing and harvesting methods. One sip and I fell in love. Tom was nice enough to give me the rest of the bottle to take home and share with my husband…he loved it too. Once you try it, I think it will be love at first sip for you as well.
Cepas Elegidas Wine
Cepas Elegidas (Chosen Wines), a small boutique winery owned by Brennan Firth, is located in the Mendoza wine region of Argentina. The high altitudes of the Mendoza region, coupled with temperate dry conditions and sandy soil provide perfect conditions to grow the grapes used in Cepas Elegidas wines.
Brennan, born and raised in Tucson, Arizona, is one of the youngest winemakers in Argentina, making waves with his unique style of winemaking. Before moving to Mendoza, Brennan got his feet wet in winemaking at several California wineries; when he started Cepas Elegidas in 2009, he was only 24 years old. Brennan focused on non-technical means of wine producing, such as using sustainable fruit and native yeasts, low yield growing, and hand harvesting to preserve the integrity of the grapes. Brennan does not filter his wines, allowing the natural color and flavors of the grape to shine through each glass.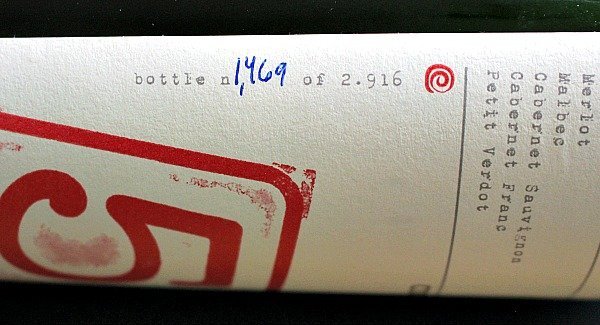 Because of the care in creating these wines, Cepas Elegidas wines are available in limited quantities. Cinq is a limited edition, 10 barrel lot, producing only 243 cases. Each bottle is numbered for integrity, and each vintage has a unique name and label.
Cinq
French for five, the Cepas Elegidas Cinq is a blend of Merlot, Cabernet Sauvignon, Cabernet Franc, and Malbec, with a touch of Petit Verdot. Each grape variety is harvested and fermented separately to allow each to develop their own unique flavors before blending. Each blend is then aged for 22 months in 60% new French oak.
Dark ruby red in color, Cinq has a bold, fruity aroma. At first sip, one can taste black raspberry with a hint of blueberry, but then the tannins smooth out to luscious flavors of nutmeg and chocolate. A great every day drinking wine, Cinq pairs equally well with a juicy steak or a bowl of chili. I had a glass of Cinq with grilled octopus and it was incredible, the grilled meat made the fruit flavors in the wine pop!
For more information and to purchase Cepas Elegidas Cinq, please visit the winery website. You can also find them on Twitter. Bottles are available in 3 for $105.00 or 6 for $198, with approximately $35-62 in shipping (depending on the size of the order).
{I received a sample of this wine but photos and opinions are 100% my own.}
Save
Save
Save
Save