It's officially fall, which means it's chocolate chip pumpkin bread time! I know what you are thinking…there are so many pumpkin bread recipes on the internet (so, so many), but I promise this is one of the best recipes you will ever make. I repeat: this is the most delicious pumpkin bread recipes you will ever make! (Putting away my bullhorn…)
Insanely decadent, this pumpkin bread is moist and fluffy, with real pumpkin taste, but is not overloaded with spice. For extra OMG, there is a healthy dose of chocolate chips nestled inside (is there such a thing as an unhealthy dose of chocolate chips?). This recipe has been tested in our "test kitchen" over and over and then test-tasted by family and friends.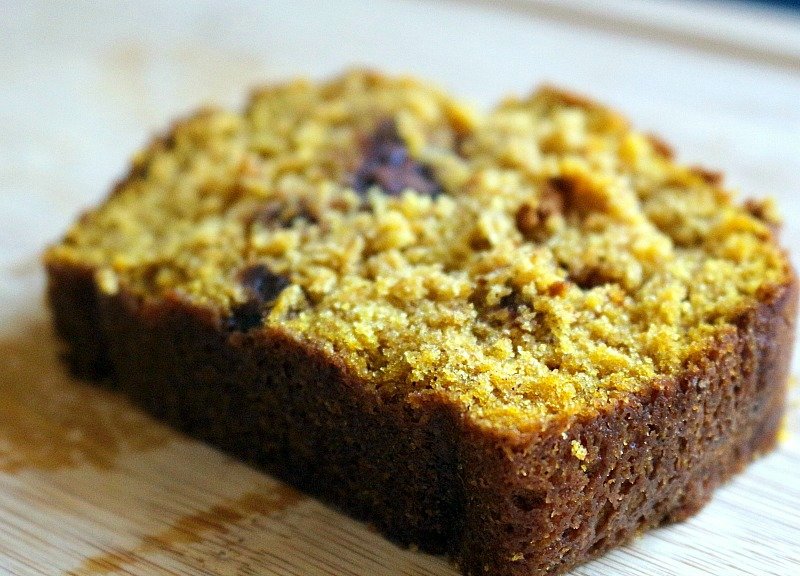 I made a batch last weekend and can you believe it's already gone! Two loaves went to my son at college and two to my Dad in Florida, and they have already eaten them and are asking for more. The other two? My husband and I devoured! Fortunately, this recipe is as easy as it is delicious–it only takes about 15 minutes to whip up (as long as you soften the butter ahead of time) and then another 40 minutes in the oven. Guess what I will be making this weekend…more Chocolate Chip Pumpkin Bread!
Hint: With the holidays coming, this pumpkin bread makes a great gift. Just wrap these little beauties in cellophane paper and tie with a bow.
Chocolate Chip Pumpkin Bread
Chocolate Chip Pumpkin Bread
A deliciously moist and fluffy pumpkin bread with the decadence of chocolate chips.
Ingredients
2

c.

Unsalted Butter

softened

2

15 oz Cans Pure Pumpkin

8

Eggs

2

c.

Brown Sugar

1

c.

White Sugar

1 1/2

c.

Apple Cider

2

tsp.

Vanilla

7

c.

Flour

1 1/2

Tbsp.

Baking Soda

1

Tbsp.

Salt

2

tsp.

Cinnamon

2

tsp.

Allspice

1

12 oz Bag of Semi-Sweet Chocolate Chips
Instructions
(Makes 5-6 full size loaves)

Preheat oven to 350 degrees. Grease 5-6 (9 inch) loaf pans. Place softened butter, pumpkin, eggs, and sugar in a large mixing bowl and mix with a stand mixer until blended. Add the apple cider and vanilla and blend more. Slowly add the baking soda, salt, cinnamon, and allspice and blend for a minute more. Slowly stir the flour in by hand. As this a big bowl of ingredients, make sure to blend from the bottom up to incorporate the flour into the batter. Mix in the bag of semi-sweet chocolate chips. Spoon batter in each of the loaf pans, filling each pan 2/3 of the way full. Place in the heated oven and bake 38-50 minutes. You can test doneness by sticking a cake tester in the center-if the tester comes out clean (except for the chocolate) your bread is done. Remove from the oven and place the pans on a cooling rack to cool. Freeze any loaves you do not use within 2-3 days.
Recipe Notes
(Makes 5-6 full size loaves)
Note: If you or someone you know is allergic to eggs, you can substitute 1/4 cup of applesauce for every egg. That makes 2 cups of applesauce for this recipe.
For another tasty treat, try my chocolate chip pumpkin donuts!
Another delicious idea: