The holiday season includes lots of holiday parties and entertaining, with lots (and lots) of food. When you have a lot of appetizers and main dishes, you should always have a few sweet treats at a party, too, right? This cranberry pear clafoutis is easy to make, but tastes like you worked all day in the kitchen. An added bonus? It is so pretty on your holiday table.
Cranberry Pear Clafoutis
Are you familiar with clafoutis? A cross between a custard and flan, this french dessert is filled with fresh fruit, then baked. Once it is done baking, it tastes great served warm with whipped cream or ice cream. It is luxuriously decadent, but is quick and easy to whip together. How does 40 minutes from bowl to table sound? Traditional clafoutis is made with cherries, but I made this with cranberries, pears, and a touch of cinnamon for a festive holiday taste. Note: The cranberries can be tart, so use less if you do not like too much tartness, or make with cherries instead.
1 cup fresh Red Cranberries
1/4 c. White Sugar
1 1/2 c. Fresh Pear, peeled and chopped
1 1/2 c. Whipping Cream
1 c. Sugar
1 Tbsp. Ground Cinnamon
1 tsp. Vanilla
4 Eggs
1 1/2 c. Flour
Preheat the oven to 325 degrees. Wash and dry the cranberries. Mix the cranberries together in a bowl with the 1/4 cup of sugar. Place aside.
Mix the chopped pear into the cranberries and then place in a greased pie pan. In a separate bowl, mix together the whipping cream, sugar, cinnamon, vanilla, eggs, and flour.
Pour into the pie pan over the cranberries and pear. Move the cranberries around the dish to spread them out. Place the pie pan in the oven and bake for about 25-28 minutes, until the center is set. Remove from the oven and let cool for about 10 minutes. Serve with whipped or ice cream.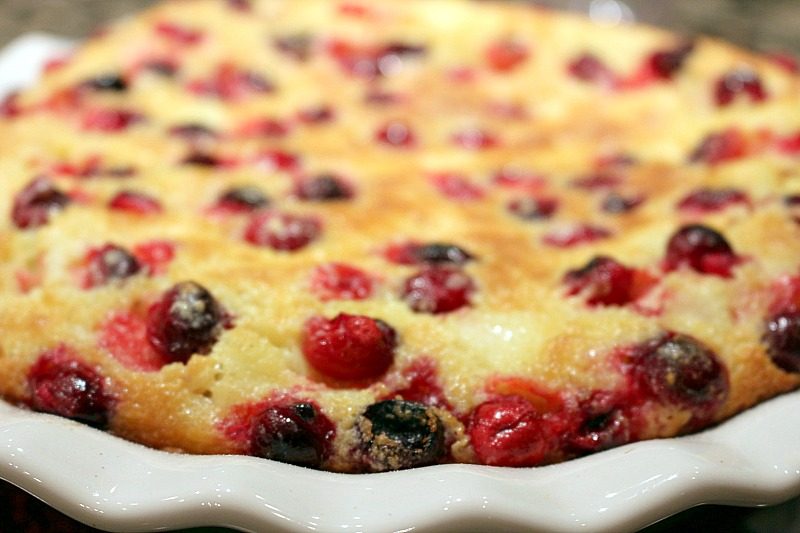 Looking for another sweet treat? Try this Cranberry-Apple Strudel!