{This post is sponsored by Ling Ling. All opinions expressed in this post are my own.}
The 2018 Chinese Lunar New Year festivities have officially begun! Also called Spring festival, Chinese New Year started Saturday, February 17th and and goes until February 26th. Have you eaten any of your good luck foods yet? Dumplings are eaten at almost every meal during Chinese New Year, as they are considered one of the main good luck foods, symbolizing out with the old and in with the new. Dumplings are also a symbol of prosperity, with many proclaiming the phrase "Zhāo cái jìn bǎo" which means "we welcome wealth and treasure". This recipe for Easy Wor Wonton soup is a quick-style version of the traditional Chinese favorite, using lots of dumplings and other fresh ingredients for good luck. While you are here, don't forget to enter the giveaway below, to win a $100 Walmart gift card and create a little more prosperity for the New Year! "Zhāo cái jìn bǎo!"
Ling Ling Potstickers
Ling Ling makes a delicious collection of frozen potsticker dumplings chock-full of lean pork or chicken and vegetables, or vegetable only, with fresh cut vegetables and Asian spices. Each little dumpling is crafted authentically Chinese, and even has lots of dimples in the dumpling wrapper that make them extra good luck! Each package of Ling Ling Potstickers comes with packets of Ling Ling's deliciously savory signature dipping sauce.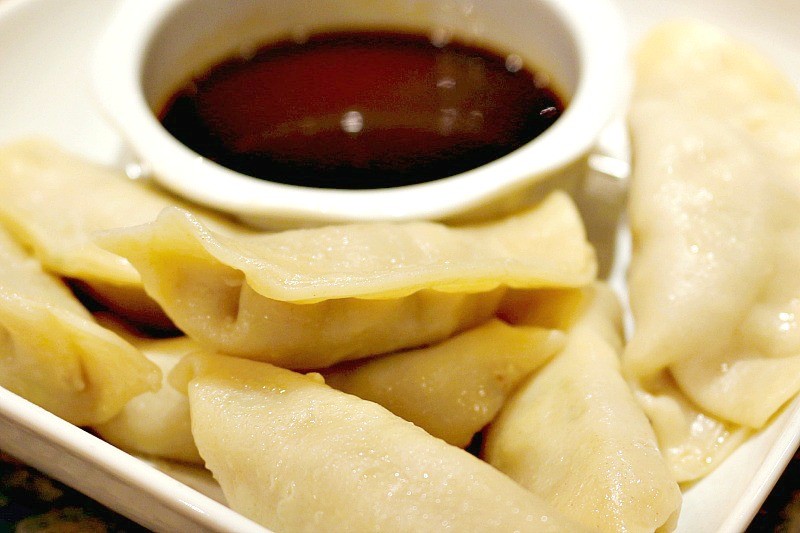 My family enjoys Ling Ling Potstickers as an afternoon snack, for appetizers, or as part of the main course, as with this Easy Wor Wonton Soup recipe. Using the potstickers as dumplings for my wor wonton soup saves me time in the kitchen, yet tastes like I worked all day! To find Ling Ling Potstickers near you, use this store locator guide. Get a $2 off coupon for Ling Ling entrees or appetizers here.

Easy Wor Wonton Soup
3 c. Vegetable Stock
3 c. Chicken Stock*
1 tsp. Sesame Oil
1/3 cup Sliced White Onion
1 (8 oz) Can of Water Chestnuts, sliced
1/4 c. Sliced Green Onion
1/3 c. Carrot, peeled and sliced
1/2 c. Broccoli florets, cut small
1/3 c. Sliced Mushrooms
6-8 Frozen Ling Ling Potstickers
1 Package of Ling Ling Potsticker Sauce
8-10 Large Cooked Shrimp
Place the sesame oil in a large stockpot and heat on medium low. Add the sliced onion and saute for 1-2 min. Add the vegetable and chicken stock. Add the water chestnuts, carrot, broccoli, and mushrooms, and heat to boiling on high. When the stock boils, turn down and simmer for about 10 minutes. Add the potstickers and potsticker sauce, stir, and heat to boiling again, then simmer on medium high for about 10 minutes. Add the cooked shrimp and simmer for about 5 minutes, then serve.
Wor means "everything" in Chinese, so this version of wonton soup can be made with whatever meat and vegetables you have ihandy, including cooked chicken and pork. We usually use carrots, broccoli, and mushrooms in my Easy Wor Wonton Soup, but I also like to add spinach (in place of the broccoli), baby corn, snow peas, and canned bamboo shoots for crunch.
Giveaway
Enter to win one of (5) $100 Walmart gift cards below. The giveaway runs from February 13th – March 6, 2018 Note: I-C will randomly select winners from all program entries and will facilitate fulfillment of the winning prizes (5).