"Such short little lives our pets have to spend with us, and they spend most of it waiting for us to come home each day. It is amazing how much love and laughter they bring into our lives and even how much closer we become with each other because of them." – John Grogan

Most of my time here, I share the happy moments in our lives with you. The good food we eat, the happy vacations we take, the products we enjoy. But life is not always happy, so as I share with you our happy moments, I also want to share our sorrowful moments. I know that you, too, have times of sorrow and I hope that by telling you my story, you will know that you are not alone. It is those times where our faith is tested, our heart broken, and only through the strength of those we care about, and who care about us, that we can get through this moments. I ask you to pray and help our family get through our second heart-breaking tragedy of this year.
Goodbye Sweet Freckles
Many of you who have followed me for awhile know how much our little doxie, Freckles, meant to our family. When we traveled, he usually came with us. While I worked from home each day, he was by my side. Each night, he met my husband at the door, bounding across the floor with unbridled enthusiasm, happy to see his Daddy. His favorite spot to snuggle was smack dab in the middle of my son's lap, often times invading whatever free space Nick had available as he stretched out across him. Freckles was my youngest child and Nick's little brother–such an important part of our family, not really a dog, but a small human. Last week, we said goodbye to our sweet Freckles for the last time.
"You think dogs will not be in heaven? I tell you, they will be there long before any of us." Robert Louis Stevenson
Freckles was always our "special needs" pooch–he had separation anxiety problems from the time he was very small. We tried to socialize him with other dogs, but that would make him so much more anxious, it was torture for him to be around other dogs, especially larger ones. When he was two years old, he developed health problems, and we had to give him special food and monitor his diet carefully. The times we did leave him in the care of others, we had to use people we trusted, who understood him and took care of those "special needs". Ironically, Freckles was a very sweet dog–gentle with everyone he met, ready to offer lots of love, without one ounce of aggression in him. His only demand from us was love and an after-dinner play time…the days we did not have time to indulge him were met with playful barking until we conceded to his "demands". He always won.
It's ironic. I always worried about him because of his stomach problems. I worried about him constantly-especially when we were out of town and he was home with a dog sitter. The one thing I should have worried about was his back. Doxies are known for having back problems, but Freckles was young (7) and I just did not think anything like this could happen to him. It did.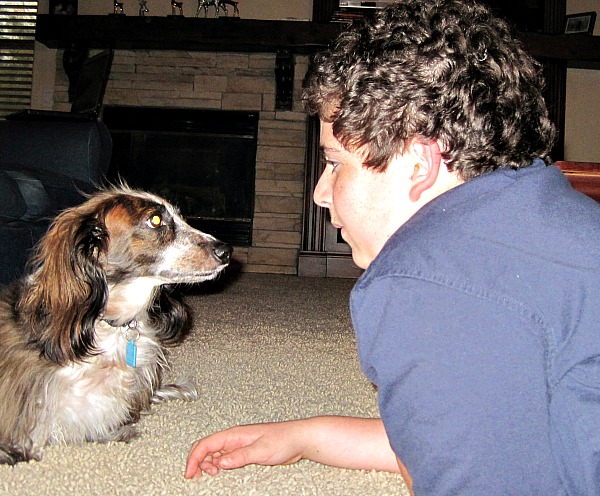 On June 16th, he started dragging his back feet and appeared to be in pain. I immediately took him to the vet and the vet said he had a herniated disc in the middle of his back. He gave us prednisone to give to him with the hope that it would bring the swelling down, and he was optimistic that Freckles could recover. By that night, he lost all feeling in his back legs. My son and I took him to the emergency vet and he gave us two choices–surgery at $8-9K with a 50% chance of working, or put him to sleep. My son and I had to make a choice–the impossible choice–we could not afford $8,000, especially when there was only a 50% chance he would recover. We were devastated and called my husband to come to the vet to be with us at the end. In a moment of sadness, I called my Dad. I always called my Mom with things like this, but since she passed three months ago, I no longer had her shoulder to cry on and her voice of reason. Somehow, she came through my father. My dad got mad and felt the vet was pushing us–he said we should take Freckles home and take him back to his regular vet the next day. He shocked me out of my sorrow and we decided not to put him to sleep, to take him back to his regular vet.
The next day we went back, and the vet was troubled by the turn of events, but when he tested Freckles, he still had deep pain sensation (DPS) in his back legs, an indication he could still heal. He gave us pain meds to control the pain, showed me how to express Freckles bladder (since he had no control over it and could get a bladder infection) and sent him home on strict bed rest. We were still distressed, but I did lots of research online and read many cases of doxies either recovering or learning to walk with the help of a doggie wheelchair. We knew Freckles life was not over.
I set up a mini animal hospital at home, taking care of Freckles around the clock. Still, he continued to deteriorate and stopped eating. Back to the vet we went, and the vet discovered that the steroids (prednisone) caused Freckles to have pancreatitis (something he almost died from in the past). He was hospitalized for the weekend so they could give him fluids and monitor him. Our other setback was that he no longer had deep pain sensation, but I was still determined we could heal him. When I picked him up on Monday, his pancreas levels were good, but his kidney levels were still high. The doctor had switched to a non-steroid medicine, and although he did not have deep pain sensation, the meds had positive results. We spent two days caring for him and things were looking up. I had mastered the bladder expression (a big concern) and we had him set up in a baby's playpen so he could be with us but be safe.
On the third day, he stopped drinking, which was essential for the meds we were giving him. He shook and panted all day, a sign the pain meds were not working. I spent his last night on earth awake all night, trying to comfort him and getting him to drink. Several times during the night I thought he would pass and prayed that God would take away his pain. His kidneys were failing. That Thursday morning, the moment the vets office opened, I called to tell the vet everything that had happened overnight and let the vet know that we did not want Freckles to suffer anymore. He agreed and made arrangements to come to the house in the afternoon. We spent the day cuddling and kissing him, giving him his last yogurt cup to lick, and telling him how much we loved him and what a good boy he was. At 3:32 p.m., on Thursday, June 25th, our precious puppy died in my arms.
Since then, our family has cried so many tears. Each day gets a little bit easier, but for me, I harbor so much guilt that there was something more I could have done for him. My head knows there was nothing, but that message has not gotten to my heart yet. He was only seven and had so much life left in him, we feel robbed. We miss his bark, his kisses, his fuzzy little body always ready to cuddle. In my heart, I know that there were several times we almost lost him, and God gave us a little more time. This time we had to let him go.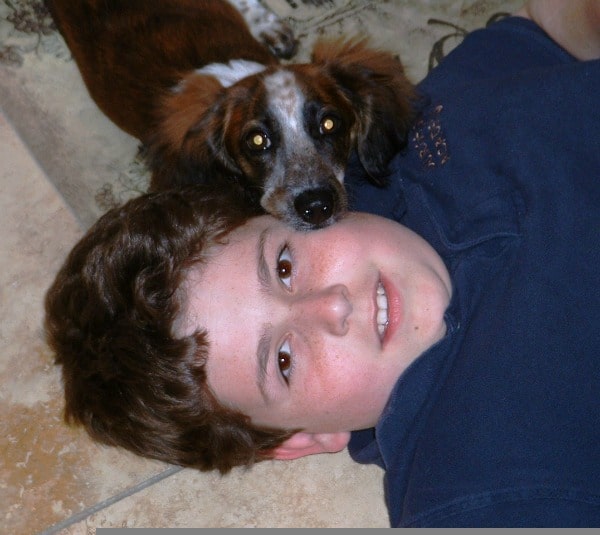 I feel such loss this year. My mother in March. Freckles last week. I worry about the stress Nick is under with his last year of high school, struggles his friends are going through, and how these losses and changes have affected him. He has had such a rough year, and I worry that the stress his school puts on the seniors will break him. So many changes, so many tears, and yet…so much hope. Nick has so many great things on the horizon, and I cannot wait to see what he becomes, once he gets through this year. I am thankful for the family who love us, and for friends who lift us up. I am thankful for you, who come here everyday to my silly little blog, and support me the way you do.
Life is hard, but life is good. I just have to keep reminding myself of that every day.