Disneyland may be the happiest place on earth, but sometimes the crowds, long lines, and wait times can test your patience and make your kids (and you) a little cranky. It is times like this that you need a little Disney intervention! These innovative iPhone apps for Disneyland will help you plan your day, make Disney dining reservations, optimize your time, and make being at Disneyland more relaxing and fun! And guess what? Many of these apps are available on Android phones too. These are the essential iPhone Apps for Disneyland, updated for 2019!
Essential iPhone Apps For Disneyland
(Free)
This app has sections for both Disneyland and California Adventure. The app will give you the wait times for every major ride, and will even tell you if a ride is closed.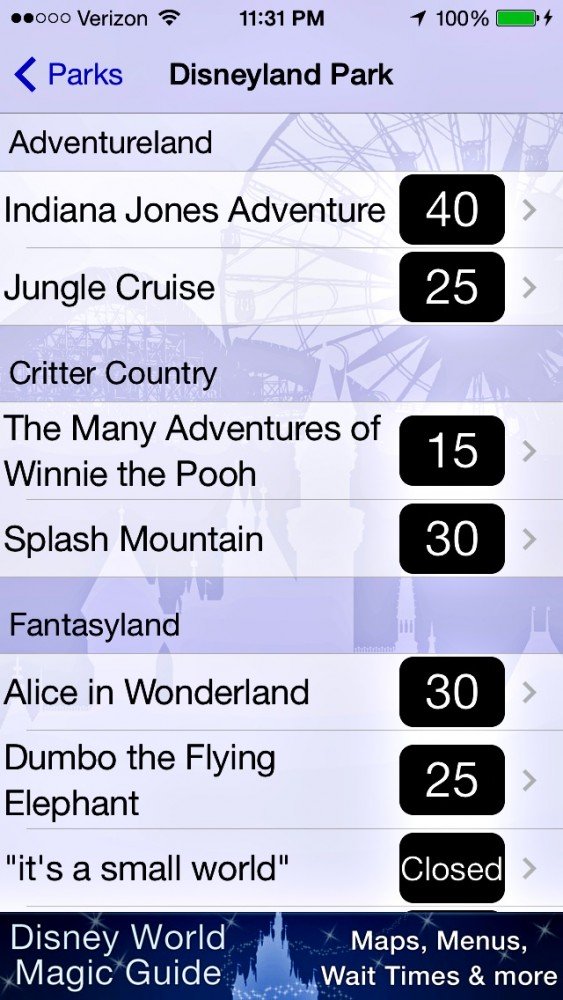 (Free)
This app is the official Disneyland app, with maps, wait times, make dining reservations, check Fast Pass return times, and more. This is a must when going to Disneyland, you can even purchase tickets through the app including skip-the-line and Max passes!
($.99)
Wondering whether you will need that sweater or rain slicker when you go into the parks for the day? The Weather Plus app gives you current weather conditions, including wind speed (good to know if you are wondering if they will cancel fireworks). You can also get future forecasts, hourly conditions, weather advisories, radar, and even access to weather stations. One of my favorite features is the Cams, which show live feeds of conditions in several areas. (This app also features weather information for Disney World)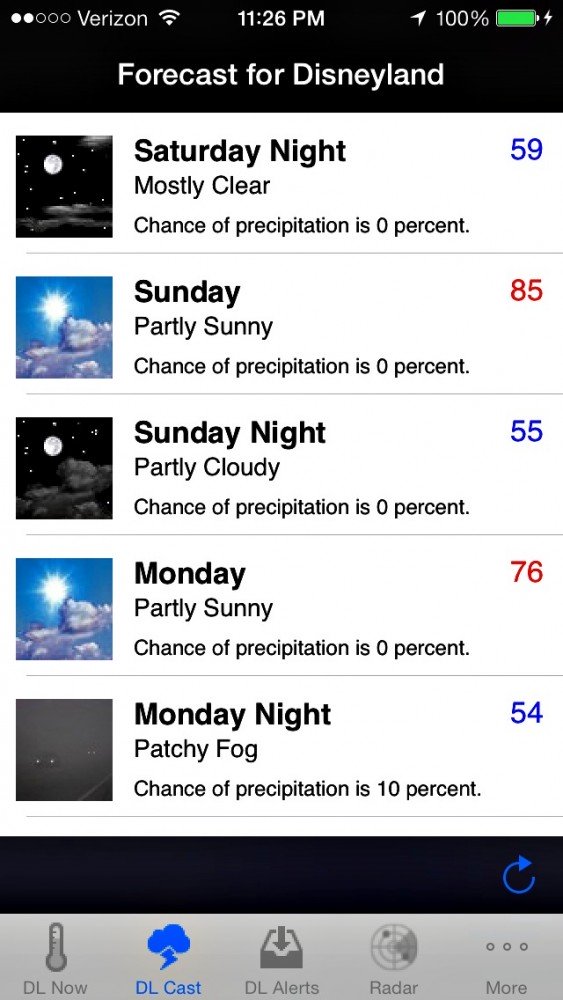 (Free, In-App Purchases)
This app is part of the popular website, Disney Inside Out. Not only can you get information on attractions, dining, shops, and guest services, but you also have access to the Disneyland Inside Out discussion boards, Twitter and Facebook feed, and trip planning information in the Resort Guide. One of my favorite features is the calendar, where you can put in your travel dates and see attendance estimates, park hours, and entertainment schedules. A synchronization with up-to-the-minute information is available as a paid upgrade.
Free (In-App Purchases)
This app includes all the features of Disney Dining, Disney Wait Times, and Disneyland Maps, as well as a guide to current events and park hours, all in one app. For an additional fee, you can upgrade the app to include Fast Pass wait times.
($7.99)
The fee for this one is a little steep, but if you love to search for Hidden Mickey's as my family does, you can do it on your own or use this app for a little extra help. The app lists Hidden Mickey's for every major ride and exactly where to look for them.
(.99 cents)
While not a true "Disneyland" app, when your kids are standing in line, bored, this game will be a happy lifesaver. (You can thank me later.) Place the phone on the forehead of the person guessing the answers, then the game will give words or phrases to everyone else, and they will give you clues so you can guess the answers. This is one of Ellen DeGeneres favorite games, and it will quickly become yours too! Because many of the words involve pop culture that younger children may not know or understand, this is best for ages eight and older but is appropriate for 4+.
(A subscription service starting at $3.99 per month or $29.99 per year)
Little ones can get bored easily while waiting in line, so keep them busy with this fun Disney coloring app. Kids (and adults) can color their favorite Disney and Pixar characters with interactive tools using magic paintbrushes in a rainbow of colors.
Make the most of the most magical place on earth with these iPhone Apps for Disneyland! They are awesome, aren't they? What are some of the essential iPhone Apps for Disneyland you cannot live without? Be sure to check out my
25 Top Secret Tips for Disneyland
and Disneyland Scavenger Hunt
game
when you go to Disneyland to make your visit extra special!
Are you thinking about a trip to Disneyland?
When it is time to book your Disney vacation, please consider Luxe Journeys Travel. I am a veteran travel agent and Disney expert and would love to assist you in making your magical dreams a reality. For more information, please visit the Luxe Journeys Travel website or fill out this travel request form!
Save
Save
Save