This post is sponsored by Ling Ling. The opinions expressed in my post are my own.
Are you ready to celebrate the Lunar New Year on February 16th? I like to go all out making dishes for the Chinese New Year holiday each year, but this year I am so busy, I don't have time to spend hours in the kitchen making everything from scratch. Fortunately, I have Ling Ling Asian Kitchen to help make my Chinese New Year celebration easy and delicious! How can Ling Ling help make your Lunar New Years menu easy and delicious too? Find out, and then enjoy this quick and easy recipe for homemade Orange Ginger Beef Ribs, which can be made on the stove top or the slow cooker! Did I mention they are easy and delicious?

Ling Ling Lunar New Year Celebration Ideas
Do you use Ling Ling Asian Kitchen frozen food entrees and snacks? I've mentioned my love for their Fried Rice in the past, but they have several other food products that make Asian cooking quick and easy. The Lunar New Year falls on a weekday this year, so I don't have time to make homemade Chinese dishes, but I don't have to because…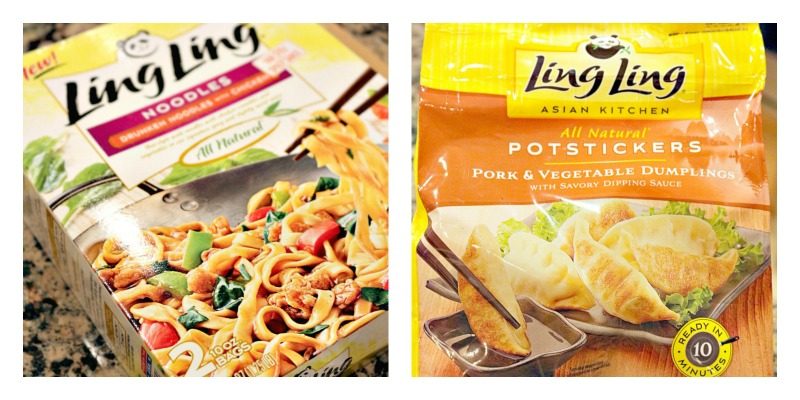 …Ling Ling has everything prepared for me! Authentic Asian fried rice and noodles with chicken, fresh vegetables, and flavorful sauces, perfectly dimpled potstickers made with pork or chicken and vegetables (that don't fall apart when you cook them), and each Ling Ling dish takes 10 minutes or less from freezer to table! My Chinese New year menu of homemade orange ginger beef ribs, Ling Ling Drunken Noodles, Ling Ling Pork and Vegetable Potstickers, and fresh steamed snow peas makes a delicious feast! Need some menu ideas for your Lunar New Year's feast? Find Ling Ling frozen food entrees and snacks in your grocery with this store locator.

Orange Ginger Beef Ribs
4-5 Tbsp. Flour
1 tsp. Salt
5-6 Boneless Beef Short Ribs
2 Tbsp. Peanut or Sunflower Oil
1/2 c. Orange Juice
3 Tbsp Soy Sauce
3 Tbsp Rice Vinegar
1 Tbsp White Wine
1 Tbsp. Chinese Five Spice
3 Tbsp Brown Sugar
1 tsp Fresh Grated Ginger
2 Tbsp. Green Onion
2 Tbsp. Wondra Flour
Stovetop Method:
Wash and dry the beef ribs. Put the flour in a large bowl, add the flour, and dredge the ribs in the flour. Place the ribs in a sealed container and place in the freezer for about one hour. Remove the ribs from the freezer and set on out on the counter to thaw for about 10 minutes.
Put the peanut oil in a large fry pan and heat on medium high. When the oil starts to sizzle, place the ribs in the fry pan side by side and sear for about five minutes, then turn over and sear the other side. Be careful you do not burn the ribs, if they start to burn, turn your burner down. When the ribs are finished searing, remove from the fry pan and place aside.
While the ribs are cooking, mix together the orange juice, soy sauce, rice vinegar, and white wine and whisk together. Add the Chinese five spice, brown sugar, ginger, green onion, and Wondra flour and whisk until the flour is completed blended. When the ribs are removed from the fry pan, add the sauce, a little at a time, and break up the pieces of fried flour and beef that remained on the bottom of the fry pan, then add the remainder of the sauce. Simmer on medium for about 8 minutes, stirring frequently so it does not stick to the bottom. When the sauce starts to thicken, add the beef ribs back into the sauce. Cover and simmer for about two hours. Serve with noodles or rice.
Slow Cooker Method:
Sear the ribs in a fry pan as above, while heating the slow cooker on high. Mix together the sauce and place in the slow cooker. When the ribs are seared, add them to the crockpot and simmer on high for four hours or low for eight.

Are you ready for the Lunar New Year?
2018 is the Year of the Dog
It is traditional to give red envelopes with money for good luck.
Decorate your house with red lanterns for more good luck!
Long noodles are eaten for health and long life….the longer the better!
Dumplings represent wealth, so pile up your plate.
Oranges are given and eaten for prosperity, so give away plenty to family and friends.
Make sure all house cleaning is done before New Years, as it is considered back luck to clean/sweep on New Years Eve.
Don't wash your hair on New Years because you will wash any good luck away.