I don't mean to brag but my potato cream cheese soup is kind of famous. This soup, along with fresh bread and a salad makes a wonderful casual dinner when hosting friends and family…which we do often. Several friends have asked for the recipe, but being the mean, horrible person I am, I have resisted…until now. Now you can be famous too.
Potato Cream Cheese Soup
4-5 Medium Baking Potatoes
5-6 Slices of Bacon
3 Tbsp. Green Onion, Chopped into thin slices
4 Tbsp. Shredded Carrot, chopped fine
3 Tbsp. Superfine Flour (Wondra)
2 c. Half & Half
3 c. Milk
1 c. Chicken Stock
2-3 leaves Fresh Thyme
1 Bay Leaf
1 Tbsp. Salt
2 oz. Cream Cheese, softened
1 c. Shredded Cheddar Cheese
Wash and dry the potatoes, then bake in a 350 degree oven for about 90 minutes. When finished baking, remove and set aside to cool. Line a baking sheet with aluminum foil and put 10-12 pieces of bacon on it, then roast in the oven (still 350 degrees) for about 15 minutes until crispy.
Set the pan aside for about 5 minutes to cool. Take 2 Tbsp. of the bacon fat from the pan and place in a large heavy-bottomed stock pot. Add the green onion and carrot and saute for about three minutes on medium-low. Remove the green onion and carrot and add another tablespoon of bacon fat, then sprinkle the flour in the pan and whisk together.
Slowly stir in the half & half and milk and heat on medium high to a slow boil, stirring frequently so the milk does not burn. Add the bay leaf and thyme. When the soup reaches a boil, turn to medium-low and continue to stir. The soup will seem thin, but the potato and cream cheese thickens it.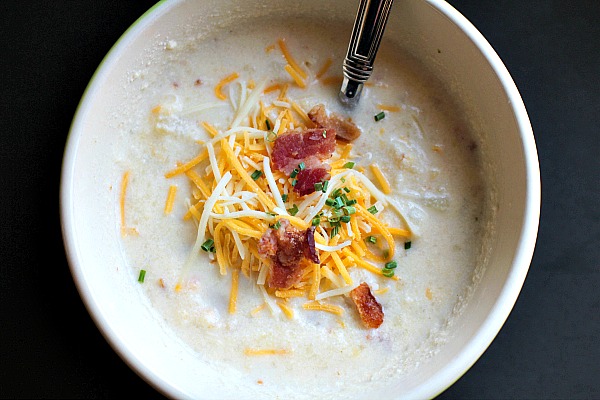 Scoop the potato out of each shell and chop into small pieces, then blend into the soup. Crush the bacon into small pieces, mix into the soup, and add the green onion and carrot. Remove the bay leaf and thyme. Simmer for about 10 minutes on medium, stirring frequently. Cut the cream cheese into small pieces and mix into the soup, then stir to melt. Add the cheddar cheese and stir to melt. Simmer another 5 minutes, then serve.