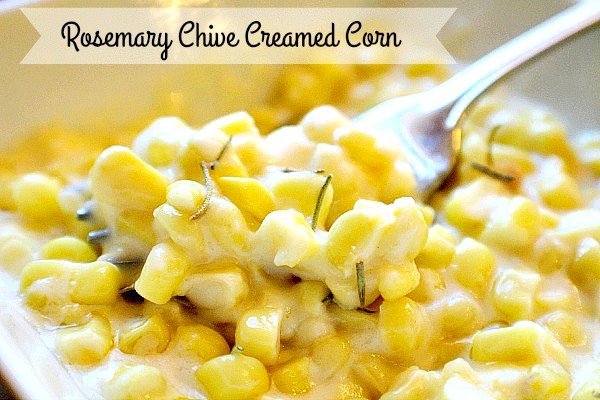 This is not your grandmothers creamed corn! If the only kind of creamed corn you have ever tried (and did not like) is the ooey-gooey canned variety, you are missing out. This Rosemary Chive Creamed Corn is juicy sweet corn, bathed in a velvety cream sauce, with a hint of rosemary, chive, and Parmesan. Once you try this, you will never go back to canned again! Use fresh sweet corn if you can, but frozen will do nicely in a pinch.
Rosemary Chive Creamed Corn
2 Tbsp. Butter
1 Tbsp. Flour
2 Tbsp. Sugar
2 Sprigs Fresh Rosemary (or 1 tsp. Dried)
1 tsp. Fresh Chives, Minced
1 c. Evaporated Milk
1 (16 oz) Package Frozen Sweet Corn or 5 cups Fresh Corn Kernels
1/2 c. Milk
1 Tbsp. Grated Parmesan
Place the frozen corn in a colander to thaw. Place the butter in a sauce pan and melt over medium heat. Add the flour and whisk to form a roux. Add the sugar, rosemary, chives, and evaporated milk. Heat to boiling over medium high heat, stirring frequently so the sauce does not burn. When the sauce has boiled, reduce heat to medium low and simmer for about 4 minutes. The sauce should thicken slightly. Add the corn to the sauce, stirring to blend the corn into the sauce. Add the 1/2 cup of milk and grated Parmesan and blend thoroughly. Simmer about five minutes and serve.
Note: Unlike other creamed corn dishes, this is not meant to be a super thick sauce, but should not be too watery either. If the sauce sticks to the spoon but cascades off easily, you know you have the right texture. If your sauce is too thin, whisk together 1 Tbsp of flour and 2 Tbsp milk and slowly blend into the sauce, then simmer 2-3 minutes to thicken.