When you think of Arizona, you don't think of snow, do you? It is not unusual for Arizona to receive snow up north in the high country, especially Flagstaff, at the Grand Canyon, and in the White Mountains, but it is rare to receive snow in the Phoenix area and Central Arizona. The past nineteen years we've lived in Phoenix, we have only seen snow one other time in Phoenix, and it only lasted about an hour. This year was a rare event, with snow falling in North Scottsdale, Cave Creek, New River, and other areas of central Phoenix. Take a look at our snow in Central Arizona!
The Snow in Central Arizona
Starting in our backyard…
Flakes on my husbands sleeve…
In the desert…
See the saguaro cactus in the distance?
…at Sunset Point looking toward the Bradshaw Mountains…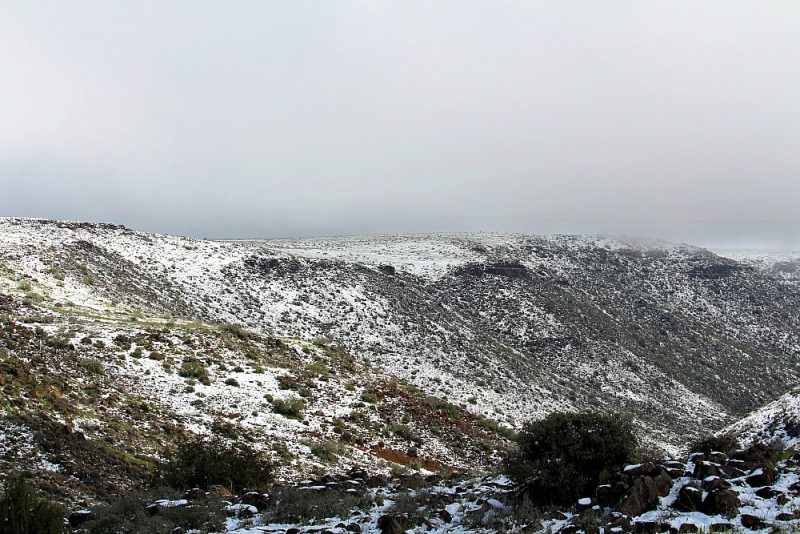 …and east toward the Mazatzal Mountains…
Even the prickly pear cactus have a dusting of snow!
In addition to the snow, we received about six inches of rain, hail, and graupel, which are snowflakes with a shell of ice.
While central Arizona received a healthy dusting of snow, our neighbors up north broke a few records with their snowfall! Flagstaff averages about 102 inches per season and only received 42 inches in 2018, but this storm brought 41 inches, breaking a previous record of 31.5 inches set in 1915. Prescott averages 12 inches of snow a year, but received 19 inches with this storm, and Payson, which averages 24 inches a year, received that amount with this storm alone!
I know it may seem silly to those of you who live in areas with snow all winter long, but our little bit of snow was big news for us –it was nice to see central Arizona as a winter wonderland, even if it was just for a few hours! In six months we will be sweltering in 108 degree heat, but for now I will grab some hot cocoa and a fluffy blanket, snuggle on the couch, and enjoy our chilly weather!
My fellow Arizonans, did you get any snow by you? If so, share your photos in the comments! Psst: Next week will be warmer, so I plan to venture out and see the Arizona super bloom!