It's summer, so I wanted to take advantage of the abundance of fresh (and colorful) strawberries and blueberries, but wanted to make something different from a traditional shortcake. Clafoutis, a French dessert, is traditionally made with fresh cherries or pears, baked into a custard-like tart. The sweet, juicy berries add just the right amount of sweet-tart to this creamy dish; for added indulgence, add a scoop of vanilla or honey ice cream.
Strawberry Blueberry Clafoutis
1 c. Fresh Strawberries
1 c. Fresh Blueberries
1 c. Heavy Cream
1/2 c. Sugar
3 Eggs
3 Tbsp. Unsalted Butter (Melted)
1/2 tsp. Vanilla Extract
1/4 tsp. Lemon Extract
1/2 c. Flour
Wash and hull the strawberries and blueberries, setting aside in a colander to dry. Preheat the oven to 325 degrees. Whisk together the heavy cream, sugar, eggs, melted butter, vanilla and lemon extract until blended. Add in the flour and whisk until just blended. Do not over whisk. Butter a large crock or pie plate.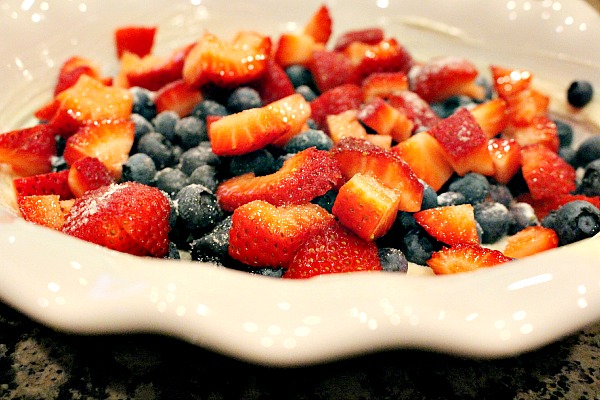 Cut the strawberries into small chunks and place in the center of the pie plate with the blueberries.
Pour the egg batter over the berries, and place in the heated oven for 25 minutes, until golden. The batter will puff up in the oven and will shrink when you remove from the oven–this is normal.
Allow to cool about ten minutes and serve with ice cream or dust with powdered sugar. Refrigerate any leftovers.