When Little Man and I took our most recent trip to Disneyland a few weeks ago, we were determined to try some of the many Treats & Eats in Disneyland. Normally, we stay at one of the Disney properties, so we eat in Downtown Disney (especially dinner), but since we stayed off-property the first few days this trip, we remained in the park for all our meals, including treats! We checked out some of the new eateries in the parks, but also took the time to re-visit some of our old favorites. Join us as we eat our way through Disneyland and take A Peek at The Restaurants and Treats in Disneyland!
Treats & Eats in Disneyland
Disney makes it super easy to book reservation dining. I called their Disney reservation line (1-714-781-3463), told them the restaurant(s) we wanted to make reservations at, our preferred time(s), and how many were in our party. It was that simple. They are pretty strict about keeping a reservation, so if you do not feel you can honor the time you make, do not make one. I believe they charge a $25 fee for no-shows. One of the restaurants I made advance reservations for, Carnation Cafe, was our first restaurant stop….
After entering the park early and riding rides for awhile, we were ready for a nice breakfast by 10 a.m. Little Man and I wanted to eat at the newly renovated Carnation Cafe, as this has always been our favorite place to go for a sit-down breakfast. With the expanded seating and new menu, we wanted to see if it was as good as it has always been. Because The Carnation Cafe is a popular place to eat, we made our reservations in advance, so we did not have to wait in a 45 minute line. (Wait times for the Carnation Cafe can be even longer, sometimes up to two hours.) The first thing we noticed was that the Carnation Cafe now had both indoor and outdoor seating, and the inside was decorated in a turn-of-the-century saloon style, with Victorian lamps and big wooden booths.
I was thrilled that they still had the Cafe Mocha on the menu (it is the best coffee in the park), but there were also many new items. I had the ham and cheese omelet, served with fresh fruit and cafe breakfast potatoes.
Little Man had the Mickey Waffle breakfast, one of the items from their original menu. Lightly dusted with confectioners sugar, it is the best way for kids to enjoy breakfast with Mickey!
Other new dishes include the Huevos Rancheros, Apple Granola Pancakes, and Steel-Cut Oatmeal cakes. Everything looked and tasted delicious! The only thing I was hoping they would change is their cafe potatoes-they are always a little too peppered for us to eat. A tall glass of fresh orange juice helped take away the spice.
After a busy afternoon of rides, we were hot and thirsty. At that moment, we were in Adventureland, so took a detour to the Tiki Room. While waiting to go inside, I stopped into the Tiki Juice Bar to get us Dole Pineapple whips. Everyone loves the Pineapple Whips, so the line is always long, but if you are going inside the Tiki Room, there is another, usually a shorter line you can hop on. Little Man got the Pineapple Whip, a refreshing soft-serve pineapple confection, and I had a Pineapple Float, a Pineapple Whip soft-serve, bathed in a sea of thirst-quenching fresh pineapple juice. (I think I drank all the juice before I took the photo!) If you have never tried a Pineapple Whip, you are missing out!
Later in the afternoon, we hopped over to California Adventure, to check out the new Cars Land, as well as some of the other new rides. By 5 p.m. we were hungry, so decided to try the new Boardwalk Pizza and Pasta, located over near the Boardwalk. Little Man behaved himself and had a big Caesar Salad, but I could not resist the pasta choices. I was torn between the Five-Cheese Ravioli and the Chicken Sun-dried Tomato pasta. In the end, the Chicken Sun Dried Tomato won out. The sauce was flavorful, but very rich, so next time I would share pasta with someone else, as it was too filling to eat alone.
Little Man had the Boardwalk Field Greens, with cranberries, caramelized pecans, blue cheese, golden raisins, and a basil vinaigrette. It looked incredible! This restaurant is cafeteria-style, but unlike many of the other restaurants in the park, this one was almost empty, and the line to get food and pay was short and quick. Boardwalk Pizza and Pasta is a diamond in the rough, waiting to be discovered. Delicious food, very family-friendly…how can you go wrong? (Oh no…now that I said this, it will be crazy busy next time we go back!)
Later, after a busy day, we both knew there was one place we wanted to wind up….Ghirardelli's new Ice Cream shop, near the Pacific Wharf area. The place was huge, and with so many sundae ideas, it was hard to chose! After choosing our sundaes, we had time to admire the decor. One of the displays even shakes like a San Francisco earthquake!
Little Man could not resist the Mint Bliss, with mint chip ice cream, dark chocolate hot fudge, whipped cream, and a cherry.
For me, the decision was harder…do I get the Espresso Escape, with espresso ice cream and dark chocolate hot fudge, or do I get the Strike It Rich Butterscotch Hot Fudge, with butter pecan ice cream, drenched in butterscotch and hot fudge, and topped with whipped cream, chopped almonds, and a cherry?? Which one do you think I choose? I picked the Strike It Rich sundae, of course! It was swoonable (yes, swoonable is a word in my world)!
The next day, we attacked the parks with flourish…eight rides before noon, without stopping for breakfast! Just as we were about to hop on another ride, something beckoned us…the scent of cinnamon heavy in the air…we tried to resist, but the more we resisted, the stronger the smell…until we could fight it no more! There is nothing like a Disney churro–it was crunchy yet light, with just the right amount of cinnamon and sugar!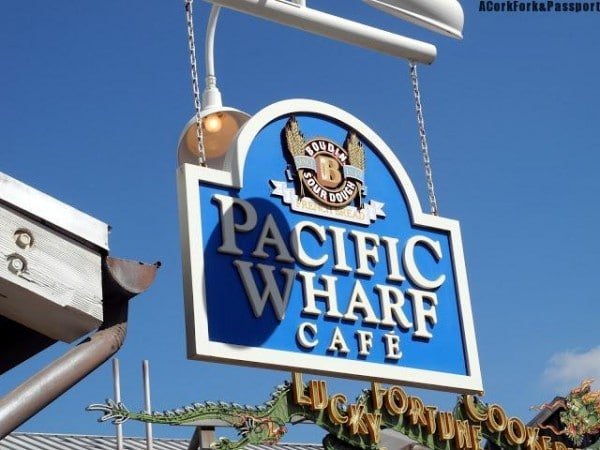 That afternoon, we decided to eat a late lunch/early dinner at one of our favorite spots in California Adventure: Pacific Wharf Cafe. They feature San Francisco's famous Boudin's sourdough, made fresh daily, and incorporate it into their sandwiches, soup, and salads. Little Man had a turkey and cheese sandwich (hold the mayo and tomato), and I had my favorite, the Shrimp Louie Salad, a green salad topped with fresh boiled shrimp, olives, and a hard-boiled egg, all inside a sourdough bread bowl. If you get the Shrimp Louie, be sure to ask for the standard dressing (Thousand Island) on the side.
I have tried their Monterey Clam Chowder, as well as their Santa Rosa Corn Chowder in the past, and both are delish! The Pacific Wharf cafe is cafeteria-style, with plenty of outside seating. Because it is so close to the Mexican restaurant, Cocina Cucamonga, as well as the Chinese cafe, The Lucky Fortune Cookery, your family can get the cuisine they like, and you can gather outside to eat together.
Although we had ice cream the day before, we could not leave California Adventure without stopping by the new Clarabelle's! An indoor ice cream cafe, Clarabelle's is beautiful! Stain glass lanterns and windows twinkled with the outside sunlight, spreading color throughout the cafe.
The walls and counter are tiled in nostalgic 1930's style, and everything is sparkling and clean…Clarabelle would be proud! There were several varieties of sundaes for us to chose from, but this time Little Man had the Chocolate Chip Cookie sundae, and I had the Mocha Sundae. There is no seating inside of Clarabelle's, but right next door is the Fiddler's Cafe, with plenty of seats available.
After another full day in both parks, our last snack stop of the night was at the Jolly Holiday Cafe, where we met friends for coffee and cookies. The cafe is decorated Mary Poppins style, complete with penguins and merry-go-rounds. The muffins, cookies, and pastries are eye-candy to look at, and even more delicious to taste! The Jolly Holiday Cafe also has healthy choices in sandwiches, salads, and soups, so you don't feel guilty indulging in a dessert.

Something to note: Disney portions are big, so children and adults could easy share adult meals. Disneyland has so many more restaurants and cafes, more than we could visit this trip. We are scheduled to go back to Disneyland in January, so Flo's V8 Cafe, Cathay Circle Restaurant, and the Paradise Garden Grill are on the top of our list. Stay tuned!
(This was a guest post on Disney in the Desert, featured here first, then syndicated there.)
Save
Save